Yogyakarta artists gathered to celebrate the 80th birthday of prominent art collector Oei Hong Djien on Sunday at SaRang Gallery in Bantul.
The birthday celebration was held as an exhibition titled "80 nan Ampuh", organized by Kiniko Art Management. The exhibit features 15 pieces from Nasirun, Heri Dono, Jumaldi Alfi, Handiwirman Saputra, Ugo Untoro, Yunizar, Yusra Martunus, Putu Sutawijaya and Theresia Agustina Sitompul, and will run through May 4.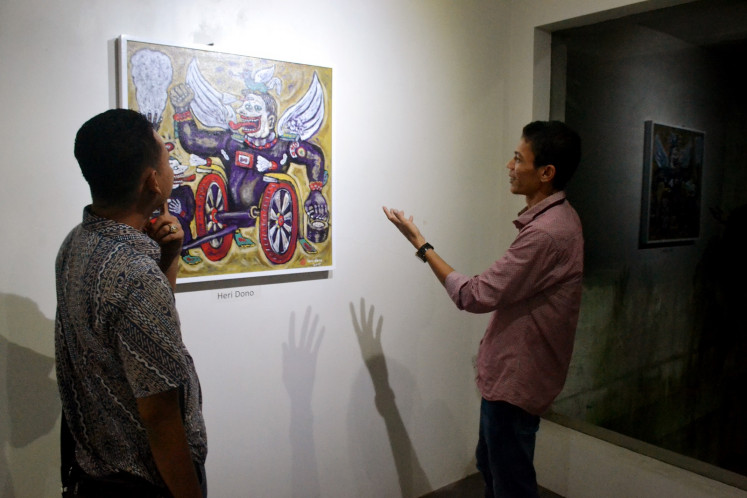 Jefri Chaniago (right) of Kiniko Art Management explains an artwork by Heri Dono to a visitor at the "80 nan Ampuh" exhibition. (JP/Stefanus Ajie)
Nasirun told The Jakarta Post that Oei's vast experience, as well as the insights he gained over decades of collecting art, had shaped his patronage of artists.
"The results from [Oei's patronage] is more valuable than [any] transactional results," he said.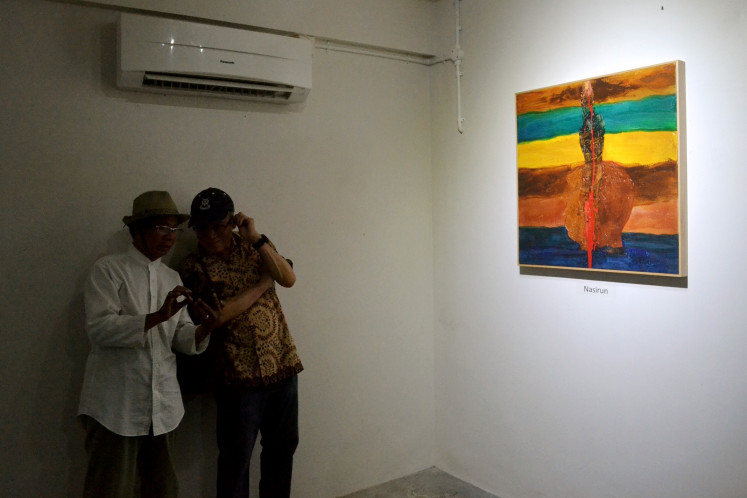 A painting by Yogyakarta artist Nasirun was one of 15 pieces exhibited in "80 nan Ampuh". The group exhibition was held to commemorate the 80th birthday of art collector, curator and writer Oei Hong Djien. (JP/Stefanus Ajie)
"Oei Hong Djien is also a good friend to converse about visual styles and artistic concepts. We often debate about art, but still in a [light-hearted manner]," said artist Jumaldi Alfi.
Oei has been active in the art scene for more than 40 years as a collector, curator and writer. He owns thousands of works of art from prominent national and international artists. Among his collection are pieces by Affandi, Lee Man Fong, Basuki Abdullah, Hendra Gunawan and S. Sudjojono.
Read also:
Oei, who was born on April 5, 1939 in Magelang, Central Java, is also known for helping emerging artists to develop their work and introducing them to a wider audience.
The art collector and aficionado said he was extremely delighted with his birthday celebration.
"Gathering with the Yogyakarta art community is always fun and full of laughter, but beyond that, the conversations always inspire great works," he said at the opening ceremony of the exhibition.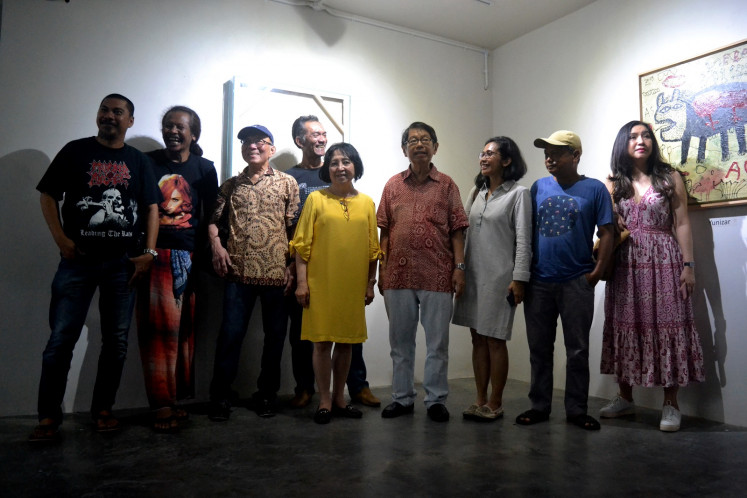 Oei Hong Djien poses with the artists of the "80 nan Ampuh" exhibition during the opening ceremony. The exhibition at SaRang Gallery in Bantul, Yogyakarta, will run through May 4. (JP/Stefanus Ajie)
Oei said he was inspired by Indonesia's first president, Soekarno, who also collected art, noting that Soekarno had always applied the principle of gotong royong (mutual cooperation) in building his relationships with artists.
He also expressed his hope that the art world would become more inclusive.
"I hope that one day, artwork will not only be displayed in galleries to be viewed only by fellow artists, collectors and art lovers. I wish that artwork can also be seen in houses, warung [shops] and offices for anyone to enjoy," he said. (gis/mut)