Teater Koma, arguably one of Indonesia's biggest and most prominent theatrical groups, recently livestreamed a "rerun" of a play from its repertoire for theater aficionados stuck at home under COVID-19 restrictions.
The health crisis has made it almost impossible for performing arts groups like Teater Koma to create and deliver new productions.
The group recently announced that it was rescheduling its 160th production, Sampek Engtay, from its original premiere in March this year to premiere on Jan. 30-31, 2020 at Ciputra Artpreneur Theater in South Jakarta.
Creativity is critical to survival in this trying time, and Teater Koma, like many other major theatrical groups, is finding new ways to stay relevant by reproducing their earlier works through streaming technology.
On July 4 and 5, Teater Koma livestreamed a recording of Sie Jin Kwie through IndonesiaKaya.com's YouTube channel. The play premiered on Feb. 5, 2010 and was the first play in a quadrilogy, with the at the Taman Ismail Marzuki arts complex.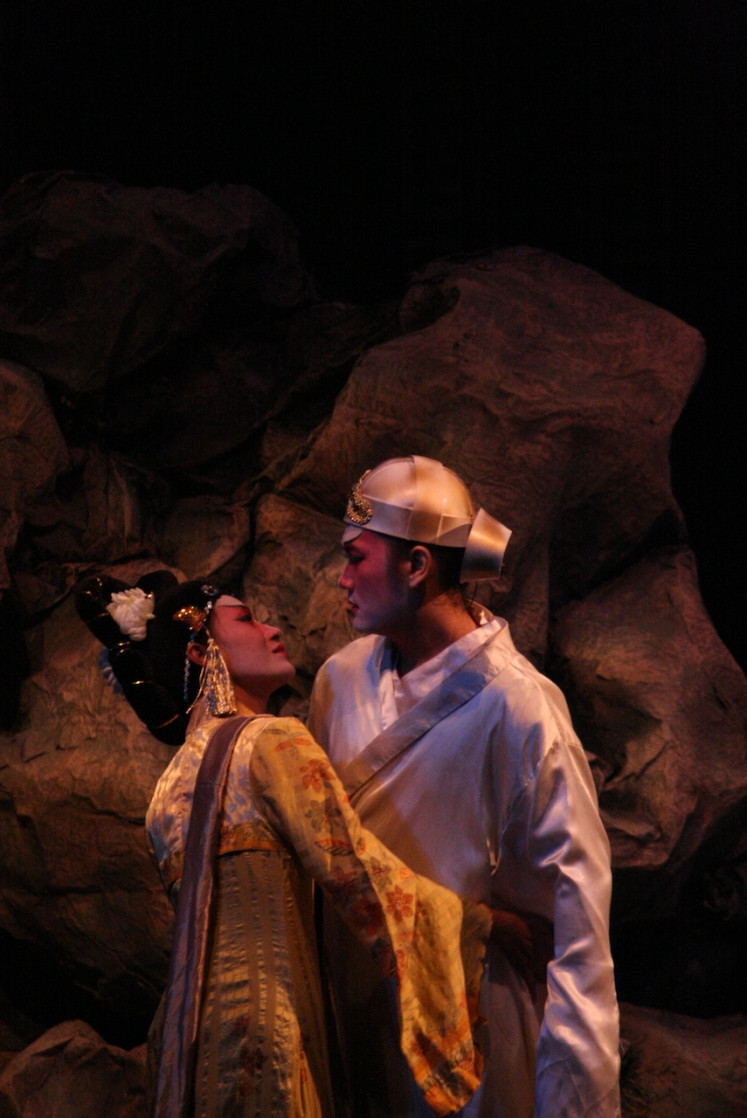 Changing the stars: Teater Koma's 'Sie Jin Kwie' features the star-crossed lovers Sie Jin Kwie, a humble construction worker, and Lee Kim Hua, the daughter of a nobleman. (Image Dynamics/-)
Sie Jin Kwie is adapted from a medieval Chinese folktale written by Tio Keng Jian and Lo Koan Chung.
Set during the Tang dynasty in 7th century China, the play tells the story of Sie Jin Kwie (Rangga Riantiarno), who appears in a dream to Emperor Li Si Bin (Prijo S. Winardi). In the dream, Sie saves the emperor from peril, and on waking, the emperor is curious about his savior and determined to do whatever it takes to meet him.
At the time, the kingdom of Kolekok had declared war against the Tang dynasty under its new ruler, General Kae So Bun (Paulus Simangunsong).
Sie signs up with the imperial army in hopes of fighting to protect the empire. Thio Su Kwie (Alex Fatahillah), a corrupt commander, knows about the emperor's dream and becomes afraid that the emperor might favor Sie over him. So Thio manipulates Sie, telling him that Emperor Li wants him dead and assigns him to the kitchen.
The play is performed as a wayang orang (human puppet) piece and is narrated by Budi Ros as the dalang (puppet master). Dressed in traditional Chinese clothing, Budi's performance blends both Chinese and Javanese culture.
As always, Teater Koma uses its distinctive dark humor to incorporate modern cultural references in its delivery of Sie Jin Kwie.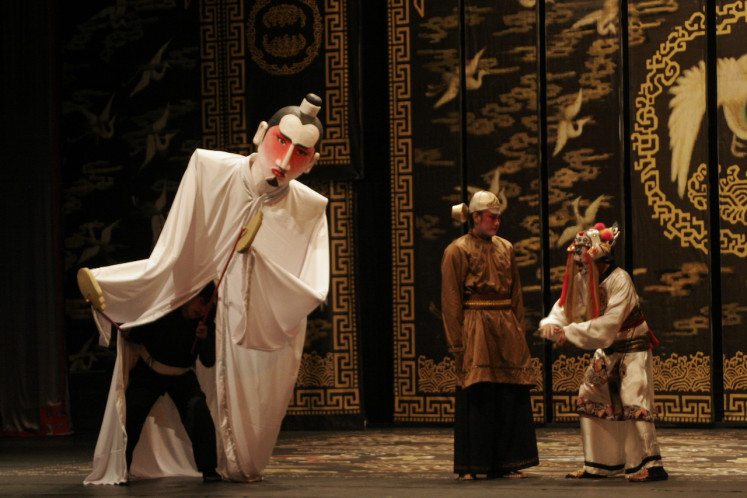 Breaking the fourth wall: 'Dalang' (puppet master) Budi Ros (right) scolds actor Rangga Riantiarno for missing his stage cue and appearing on stage alongside his character's 'wayang potehi' (glove puppet). (Image Dynamics/-)
For example, when Sie defeats his first enemy, Budi steps in and stops the play, so the audience has a chance to take pictures. At other points in the play, the joking plays on the absurd, like when Sie is talking to a rather feminine tiger that calls itself macan banci (transvestite tiger).
The play's vocal performances also shine in emotional scenes presented in song accompanied by light-footed dances, with the troupe's actor and actresses showcasing their vocal talents through harmonization in each number.
"The play of Sie Jin Kwie is a story of heroism, manliness, patriotism and sincerity in fighting for a nation, [the protagonist] often intercepted by corrupt individuals," said director Nino Riantiarno.
"With the mix of pretty costumes and choreography, along with music and unique singing, we want to present an entertaining show that still retains its [moral] values. I hope that the positive messages in this play will be accepted by connoisseurs of art."
The writer is an intern at The Jakarta Post.
Your premium period will expire in 0 day(s)
close x
Subscribe to get unlimited access
Get 50% off now