With no clear end in sight to the health crisis, both performers and concertgoers are anxious to see where the future will lead. Will the new normal be a return to sold-out stadiums, or will it be bedroom sing-alongs in isolation?
In a webinar hosted by online news site BaBe (Baca Berita), music journalist Benny "Bens Leo" Hadi Utomo said that unprecedented events would always drive innovation among creatives.
"The first movement I saw was [jazz musician] Indra Lesmana playing piano at his house in Bali in a virtual jamming session with his peers. This was a very interesting phenomenon, and people started to discover that such a [virtual] place exists," he said.
Another innovative take is DSS Music's charity concert series, "Konser 7 Ruang" (7 Rooms Concert).
Broadcast from its studio in Jakarta, the concert series featured a rotating lineup of artists that included Ruth Sahanaya, Vina Panduwinata and Fariz R.M., with each musician playing separately in seven rooms to comply with social distancing rules.
Bens Leo said that Vina's session raised the largest funds of around Rp 128 million (US$8,908) in donations, which would be distributed to artists and production crew who were affected by the epidemic.
The public health crisis has forced numerous concerts around the world to cancel. Meanwhile, the Indonesian Arts Coalition recorded that 113 musical events had postponed or cancelled entirely as of April.
Kiki Aulia Ucup, strategic planner at the Demajors record label and the program director of Synchronize Fest, said that the last major musical event in Indonesia was the Java Jazz Festival in March. After that, the industry had all but come to a standstill.
He said that most musicians and vendors had come up with their own solutions in response to the pandemic, as holding a regular concert was out of the question.
"As for our current condition, we still haven't recovered yet. My employers have come up with a 'new normal donation', which is not in cash, but rather [provides] jobs for event workers so they can hope to continue working, [and] lift their spirits," Ucup explained.
"Monetary donations aren't wrong – we still don't know how many have been affected – but if the donations are in cash, [the recipients] would feel like they don't have any opportunities to work anymore, at least that's what I've gathered from them," he said.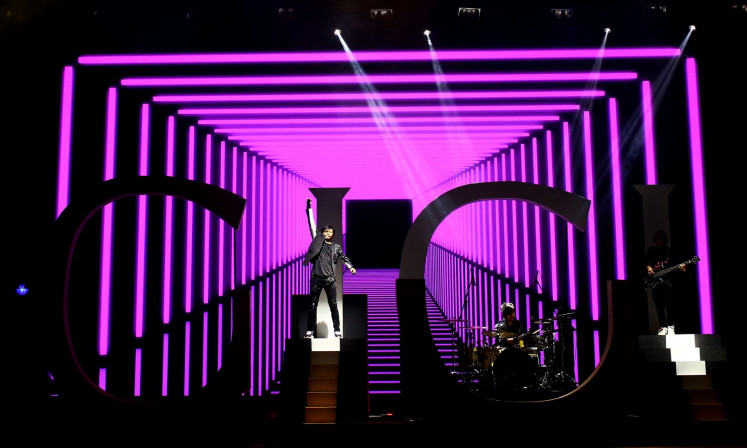 Digital sync: Armand Maulana (center) of pop rock band Gigi performs at a 2019 concert in Jakarta. Musicians have turned to digital platforms to stay relevant and connect with fans during the health crisis. (JP/Wienda Parwitasari)
Concerts have generally gone digital, and according to veteran musician Armand Maulana, the music industry was one of the fastest to adapt to the new circumstances, given the number of virtual concerts on social media.
"So when the pandemic first started, online charity concerts were all over the place, and I was nearly overwhelmed. We were all in shock at first, anxious because we were thinking about what was going on behind the scenes," said Armand, who is the front man of pop rock band Gigi.
"Sure, we can entertain people through social media, but the bottom line is that we'll be able to perform again someday [when] we can gather as a mass, whereas this is simply not allowed during these times," he said.
After four months and counting, Armand said that while the free virtual events had garnered many viewers, paid virtual events would require brilliant ideas on how to draw in crowds.
"Even now, free concerts are seeing dwindling audience enthusiasm, and that's what we have to think about since we can't do an offline concert yet," he said.
Still, some are experimenting with the idea of holding in-person concerts again, albeit with tweaks for health and safety reasons.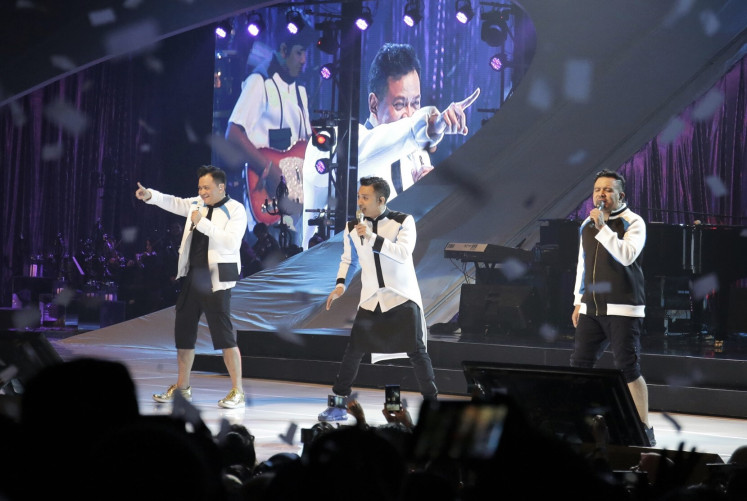 Revving up: Kahitna performs at its 30th anniversary concert in 2016. The '80s group from Bandung, known for their balladic renditions, is a featured performer in the upcoming "Drive-In Konser" in August, which claims to be the first of its kind in Indonesia. (Courtesy of Berlian Entertainment/-)
Berlian Entertainment's "New Live! Experience" series has adopted the drive-in concept, where gig-goers can enjoy watching their favorite musicians performing live from the comfort of their own cars.
So far, the Drive-In Konser is planned for an as-yet unannounced date in August in the west parking lot of the Jakarta International Expo (JIExpo) in Kemayoran, Central Jakarta. The event has confirmed Bandung's '80s sensation Kahitna as one of its featured artists, with other artists in the lineup to be announced later.
The drive-in concert seems to be the way forward, with the Jakarta Tourism and Creative Economy Agency giving the thumbs-up to drive-in concerts at outdoor venues starting from July 7.
Read also:
Under the health protocols, concertgoers may not leave the designated area and may exit their vehicles only with the organizer's permission. At four passengers per car parked 1.5 meters apart, attendance will likely be limited, never minding that children under 9 years and adults over 60 will be refused admission.
With movie theaters slated to reopen on July 29, perhaps there is reason to hope that concert venues won't be long behind.
However, Bens Leo stressed that physical distancing between concertgoers would likely be enforced.
"If the concertgoer brings a partner and they have to stay one meter apart, how would that work? We've never even imagined such a [scenario]," he said.
Ucup said that many concert had postponed to November, although the decision was based on the assumption that the epidemic would be under control by then.
"Synchronize Fest is scheduled for Oct. 2 to Oct. 4 at JIExpo Kemayoran, and we're still working on the audience protocols, so they can watch the performance while still maintaining physical distancing measures and maintain the WHO standards," he said, referring to the global health body. (ste)
Your premium period will expire in 0 day(s)
close x
Subscribe to get unlimited access
Get 50% off now