The fifth Muslim Fashion Festival (MUFFEST) ended on Sunday, after showcasing the latest designs from 117 designers and brands over the course of the four-day event.
This year, the festival, held at the Jakarta Convention Center, also featured around 400 tenants setting up shops for modest fashion enthusiasts and placed a renewed focus on sustainability in fashion alongside the usual trends that come and go with the seasons.
With the zeitgeist pointed firmly toward climate change this year, MUFFEST has adjusted accordingly, taking up the theme "Fashionable People for Sustainable Planet".
In the opening ceremony on Thursday, attended by Cooperatives and Small and Medium Enterprises Minister Teten Masduki, chairman of the Indonesian Fashion Chamber (IFC) Ali Charisma highlighted the role of the fashion industry in driving change through environmentally friendly practices.
"Increasingly, more designers have tried to limit or reduce waste such as scrap fabric or fabric dyeing waste. These are the commitments of the industry to become more environmentally friendly for a better future," Ali said.
One of the touted ways to limit pollutants from the fashion industry is by reducing the use of polyester, as studies have shown that microplastics shed from synthetic fabrics during the wash cycle and end up in the ocean.
Riau-based viscose-rayon producer Asia Pacific Rayon (APR) returns for its second year at MUFFEST, collaborating with several designers who used the company's biodegradable fabrics for their latest collection.
Seven designers collaborated with APR for MUFFEST 2020, with AM by Anggiasari and Aninda Nazmi showing their designs during the opening ceremony.
Anggiasari went with clashing patterns nestled within layers, contrasting muted blues with darker purples and the occasional print or flash of green.
Styling tended toward edgy, with sewn-on paneling in contrasting patterns and distressed, unfinished detailing sprucing up the looks.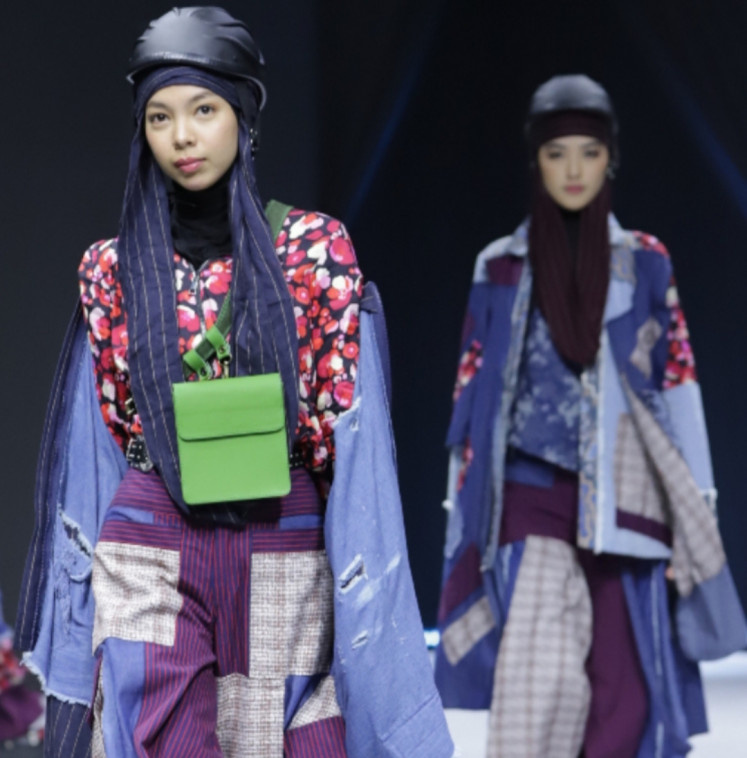 Collage: AM by designer Anggiasari presents clashing patterns nestled within layers, while styling tended toward edgy. (Courtesy Muffest/-)
Meanwhile, Aninda Nazmi went for the classically feminine, turning a striped crimson-purple fabric also used by Anggiasari as contrast panels into flowing yet structured outerwear.
Layers are still there, albeit made more interesting through curved hemlines that elevated even the simplest combinations like blue and white.
A dedicated APR segment was staged on Friday, featuring Deden Siswanto, Syukriah Rusydi, Dan Liris, Eugeneffectes and Rosie Rahmadi.
Both Deden and Eugeneffectes collaborated with sarung brand Gajah Duduk but each presented different styles.
Deden took inspiration from the nomadic people of Senegal, with layers of different patterns that would normally be worn to ward off the heat and sand.
"The [nomadic people] have similar styles to Indonesians, in that they wear sarung as well. The silhouettes are mainly loose, so it can hide your girth like what I'm wearing," he joked during the press conference.
Meanwhile, Eugene turned traditional sarung patterns into streetwear-inspired garments, capitalizing on its similarities to plaid.
Silhouettes are again rather loose, with clear nods to generation Z icons like Billie Eilish with oversized fits and the brand's cheeky slogans like "allergic to basic".
"The concept is taken from the lives of present-day teenagers, and I've taken some quotes for several outfits. So in a way, I've made sarung into street style," she said.
Another highlight was Syukriah's insomnia-inspired collection, which featured dramatic, flowing outerwear and pillow-shaped bags that are rather Balenciaga-esque in their cheekiness.
Your premium period will expire in 0 day(s)
close x
Subscribe to get unlimited access
Get 50% off now