Clouded leopards, lionfish, nutmeg trees and other examples of Indonesia's rich wildlife now appear on tables, lazy Susans and other pieces of furniture thanks to a team of expert artists. 
, a new Bali-based luxury furniture company, uses sustainable, handmade furniture to showcase the natural beauty and history of Indonesia. The company was created by Mary Justice Thomasson with a team of Indonesian artists responsible for the expertly crafted pieces.   
While the company is new, the idea is not. Thomasson has been working on her vision for the past two years, and her connection with Indonesia goes even back further.
Born to an antiques dealer mother and an archaeologist father, Thomasson said a love of travel and fine arts was in her blood. She's traversed the world and has spent more than 30 years in Asia, the last 15 living in Bali. Throughout her time in Bali, she developed a passion for Indonesia and wanted to create something unique to represent the country.
"Indonesia, I fell in love with slowly but I fell deeply," said Thomasson. "This whole creation and idea have never been done before, and it just came out of my head out of the beauty that I saw here and wanted to express somehow."
A team of talented artists have helped her realize her vision of creating furniture with the sensibilities of fine art.
Production manager and in-house artist Aluysius Sulistianta is a published poet, painter and furniture designer who has won awards and recognition for his work. He works with Thomasson from the beginning stages of a piece, designing and planning out the specifics of how the furniture will come together.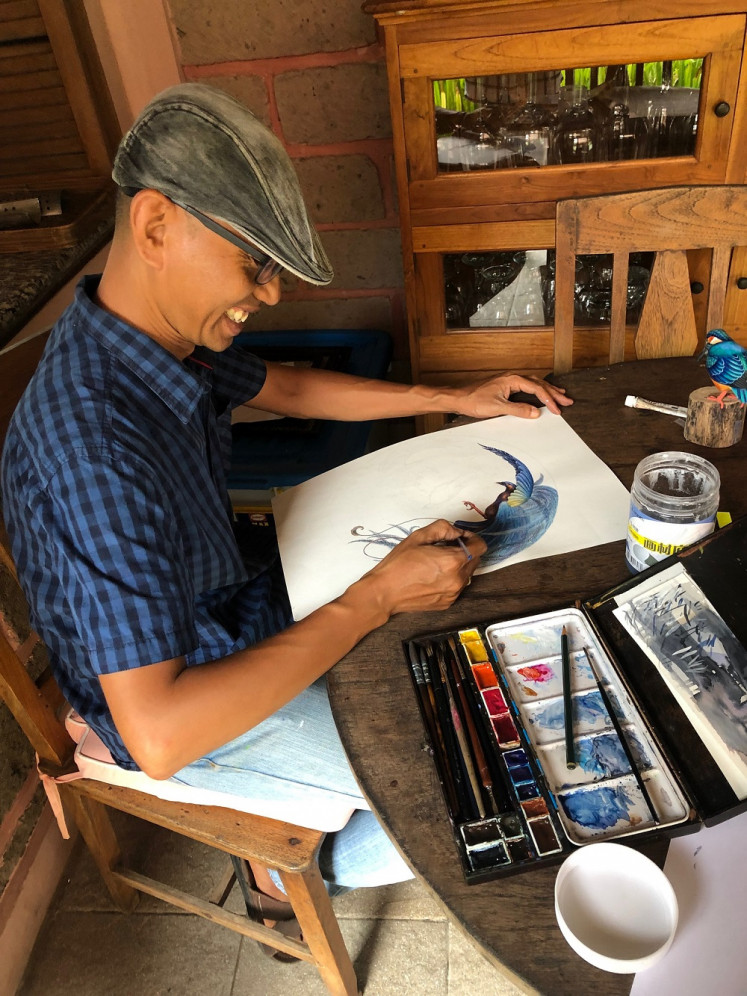 Aluysius Sulistianta works on a design using watercolors. (Courtesy of/Mary Justice Designs)
After the design is finished, the pieces come to life through a meticulous painting process. Tatang B.Sp, an internationally acclaimed painter, not only paints the furniture but also contributes to every step of the process, helping finalize the design and meaning of the pieces.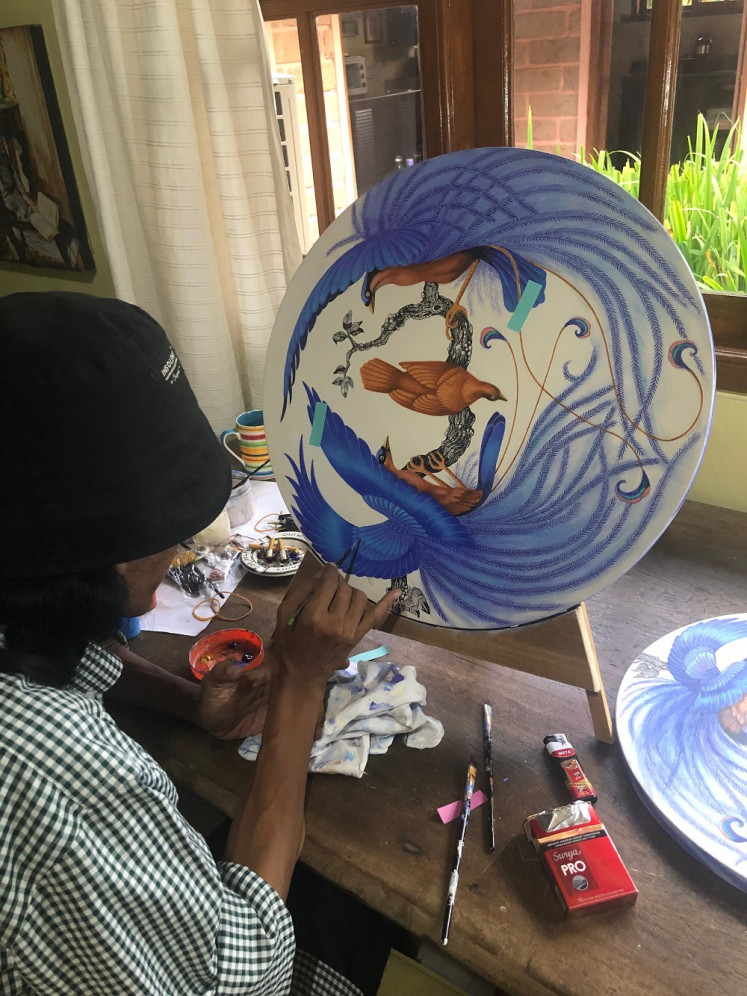 Painter Tatang B.Sp works on the "Flights of Fancy" lazy Susan collection. (Courtesy of/Mary Justice Designs)
The furniture is realized through an intricate hand carving process accomplished by Ikshanto Eko, an expert carver and carpenter whose work can be found in resorts and hotels around the world.
The team has produced five limited-edition series, made from sustainably sourced wood, to showcase Indonesia's natural beauty and history. There are 15 pieces in each series and they include folding butler tables, which depict a pair of gibbons on trees before a sunset, and tilt-top tables bursting with the color of an ocean reef scene. Thomasson says everything depicted in the pieces is indigenous to Indonesia.
The pieces were created through a unique process. The paintings were made using the Renaissance-era technique of painting on gesso, a base mixture applied to the wood as a primer. This process required at least nine brush strokes to create the equivalent of one stroke on a conventionally primed canvas. Tatang described it as one of the most challenging techniques he's experienced with in his 30-year career. 
Other parts of the process also posed challenges. Some of the legs of the tables were designed to look like bamboo. This was a demanding process for Eko because of the detail, elegance and natural look that was required.
"All of it is done by hand," said Sulistianta. "To get that look is not easy."
Beyond highlighting the natural beauty of Indonesia, there is also a deeper meaning for some of the art.
A certain folding table with branches, leaves and butterflies in earthy browns and greens is titled "Flora". But these aren't just any branches; they're nutmeg trees. Nutmeg is indigenous to Indonesia and Flora recognizes the difficult history the spice was involved it.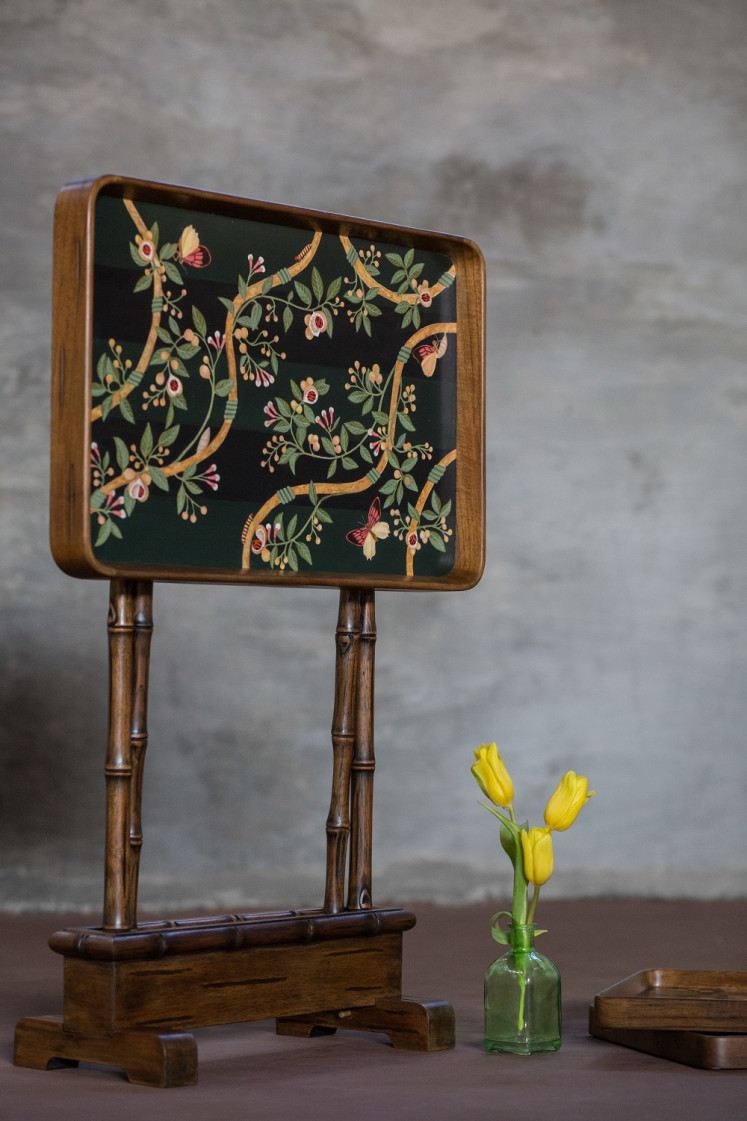 The "Flora" collection folding table. (Courtesy of/Mary Justice Designs)
Nutmeg sparked Dutch colonial invasions and massacres. And while the folding table acknowledges this history, it also balances its message with images of pupa, caterpillars and butterflies which resemble Indonesia's metamorphosis and independence.
Like many other businesses around the world, Mary Justice Designs was impacted by COVID-19. The company was launched just as the world began to shut down, and Thomasson's planned showcases were canceled.
"What a great time to start a luxury furniture line," said Thomasson sarcastically. "It's been a struggle to survive."
Despite the pandemic, the team is moving forward to begin selling their art. They're sticking together and looking at future with new ideas and designs. Regardless of the difficulties, Thomasson says their work has a purpose.
"Why would a master artist want to make 15 [pieces of furniture] in a limited edition? It's because we're telling the story of Indonesia." (wng)
—
The writer is an intern at The Jakarta Post.
Your premium period will expire in 0 day(s)
close x
Subscribe to get unlimited access
Get 50% off now