Those of a certain age are likely familiar with Buku Pintar, a series of encyclopedias first published in 1982 and a perpetual bestseller in the pre-internet days. 
At hundreds of pages in length, the books contained enough information a regular Indonesian would need in their daily life, from national history to geographic trivia.
With the wide variety of topics at hand, you would expect the series' author himself to lead a varied life, and you of course would be right.
Hailing from the town of Takengon in the highlands of Aceh, Iwan Gayo's life is as interesting as they come.
In an online webinar held by community group Ikatan Musara Gayo, the 68-year-old recalled that, by his own mother's account, he was someone "not accepted by the Earth".
"My birth was a very difficult process […] My mother said she repeatedly had the midwife over to her house to help with my birth, and many times it would not turn fruitful. It was only in the eleventh month that she finally gave birth, and even then she couldn't breastfeed me because of her sickness," Iwan said.
As a young boy, Iwan walked with a gait that earned him the nickname King Kong, after the enormous gorilla-like monster from the movies. Everyone in the family referred to him as Abang King Kong, which soon stopped after his gait returned to normal in elementary school.
"When I went to school, my father took me to the principal, where he asked for my name. My father named me Iwan Glaxo, which I didn't understand at that time," he said.
"Apparently, he named me after the imported British powdered milk Glaxo, which I consumed instead of breastmilk."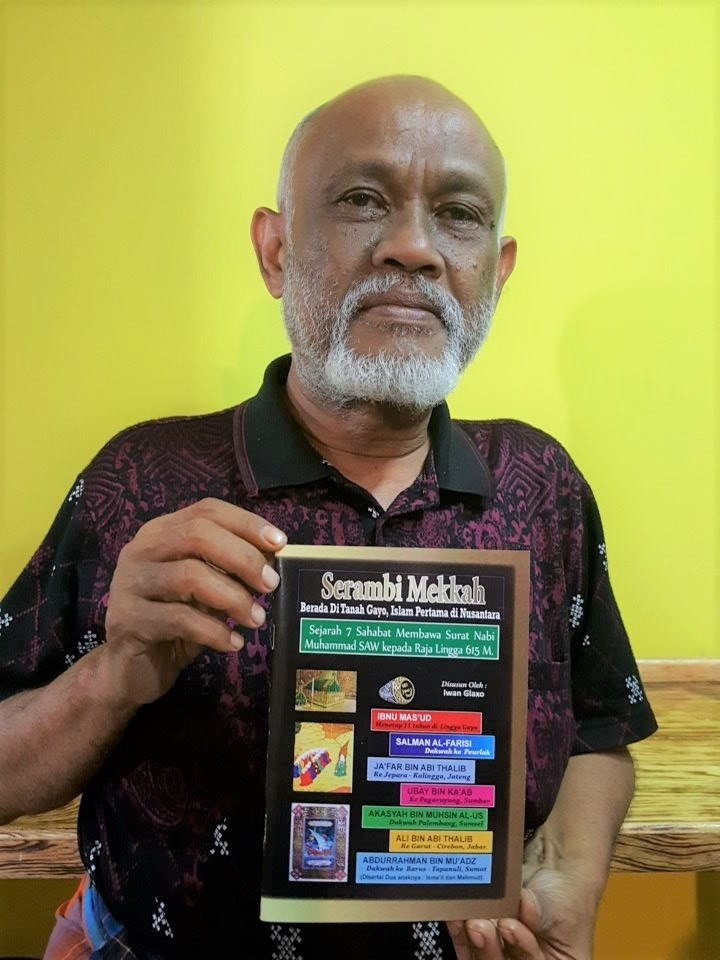 Human search engine: Iwan Gayo got his start in producing compendiums after a failed scholarship application, which inspired him to hit the library. (Courtesy of Twitter/-)
While the name was symbolic of the hardships he faced early in life, Iwan's peers were not as accepting, intentionally calling him Iwan Glaxon, a pun off klakson (automotive horn). Because of this, he changed his name to Iwan AB (Iwan Abu Bakar).
"I hated it very much, and I wasn't very comfortable in school. I wasn't very receptive to my teacher's materials – I was only able to read in third grade, and I stuttered when doing so. Looking back on it, I was reassured because the genius Thomas Alva Edison also learned to read at a later age," he said.
As he wasn't interested in staying in school all the time, Iwan had a sense of wanderlust in middle school that took him to cities like Medan in North Sumatra "without any real end destination". 
Later on in 1968, Iwan wanted to make his way to Jakarta because he wanted to shake hands with the founding father, Sukarno.
After six months of selling cigarettes, with no funds saved up because his friends often took the money, Iwan decided to make the journey to Jakarta regardless, taking a ship and working throughout the trip there by cutting onions.
Even in Jakarta, he wasn't content staying in one place at his uncle's house, eventually packing his bag and exploring the capital.
He eventually arrived at the Jakarta Social Affairs Agency in Kebon Sirih, Central Jakarta, becoming a ward of the state after making himself cry on the spot.
However, after getting into a scuffle and spending a stint in jail, Iwan was no longer welcome there.
Once he was released, he became a journalist, where he finally had the name Iwan Gayo printed as his byline.
"I didn't like the name Iwan Glaxo and Iwan AB didn't feel right. I then put the name Iwan Gayo. People would underestimate me, as I had wild hair and didn't dress snazzy."
As the newly minted Iwan Gayo, he covered the first legislative election in July 1971, trailing Sukarno's son Guntur Soekarnoputra as he campaigned at Blok S in Kebayoran. He was assigned to write Guntur as Indonesia's Kennedy.
He went and waited but Guntur did not show up. Being a new journalist, he did not know where to go, what he should refer to or even what was happening.
"After asking around, I found out that Guntur was being held back because Soeharto was not keen on Sukarno," he said, adding that he began to dislike the second president for crushing his dream of meeting Sukarno.
Even so, Iwan still wrote the article, titled "Guntur Sukarno – Indonesia's Kennedy – did not turn up at Blok S". He found out later that Guntur swore to never be involved in elections.
In 1982, Iwan received the Adinegoro Award, the most prestigious award for Indonesian journalists.
As for his Buku Pintar series – which has had a long run with the latest editions of the Junior and Senior books being the 39th and 50th versions respectively – Iwan said the idea came from a test for a scholarship program for journalists, part of the Colombo Plan regional organization.
"When I applied, I was tested [in English], and even though all the questions were standard issue, I understood none of them. Its questions, like 'What is your name?', 'How old are you?' and so on, meant to test our language capabilities. Because I was also deathly nervous, I didn't land the spot.
"I was crushed, because many of my father's books were in English. I had to learn the language so I sold the motorcycle I got from the [Adinegoro] prize to my friend and went to Yogyakarta and Bandung to learn English."
During his studies at the United States Information Service, Iwan spent a considerable amount of time hitting the books in the reference room, where he discovered the Information Please Almanac. 
Iwan read the almanac so often that the head librarian asked him why he liked the book so much when there were other books in the library's collection.
"He asked me if I wanted one, which I of course said yes. Since it's an annual book, he'd give me the latest edition," he recalled. "After I received it, I didn't have to make photocopies anymore, and I immediately went and designed Buku Pintar Junior."  (ste)
Your premium period will expire in 0 day(s)
close x
Subscribe to get unlimited access
Get 50% off now