Helmed by esteemed Japanese theater director Tadashi Suzuki, Dionysus, a collaboration between Purnati Indonesia and Suzuki Company of Toga, will be staged on May 17 and 18 at the Victoria Theatre to open the Singapore Festival of Arts (SIFA), with tickets starting at S$40 (US$29.54).
Dionysus, which derived its name from the Greek god of wine and theater, made its world premiere at the Toga Art Park in Toyama prefecture, Japan, on Aug. 24 last year. The play is an adaptation of the ancient Greek tragedy The Bacchae, written by Athenian playwright Euripedes.
The story tells of Dionysus' attempt to punish Pentheus, the king of Thebes, by seducing the women of Thebes – including Pentheus' own mother Agave – into a frenzied worship.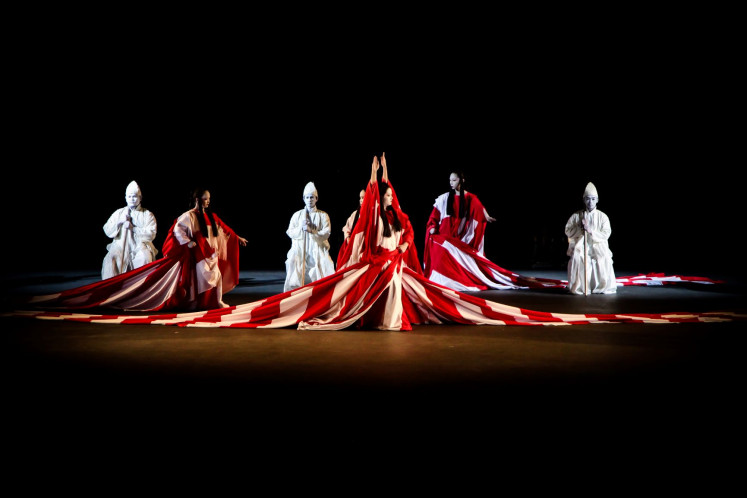 Multiethnic cast: The cast of "Dionysus" is made up of 11 Indonesian actors, two Japanese and one Chinese.
(Courtesy of Purnati Indonesia 2018/Dian P. Susilaradeya)
This adapted version of the famous tragedy was created in 2015, when Suzuki and Japan Foundation Asia Center met with producer Restu Kusumaningrum of Purnati Indonesia to arrange for a viewing of several traditional performances.
"Suzuki asked to see performances that are very spiritual in nature. I asked him why he was interested in them, and Suzuki explained the theater of recent times had lost its spiritual essence and so he wanted to bring that essence back to Japan with him," Restu recalled.
Forty-eight actors from across Indonesia took part in the first audition in June 2016. Afterward, 16 were selected to undergo rigorous training devised by Suzuki himself at the Suzuki Method of Actor Training workshop in Toga.
Eleven Indonesian actors, joined by two Japanese and one Chinese, made the cut for the final production.
According to assistant director and actor coordinator Bambang Prihadi, the Suzuki method was exceptionally effective for the actors involved, as Suzuki likened the actor to a luxury car.
"Like a well-built luxury car, the actor knows every minute detail of their ability and also delivers a top performance smoothly," Bambang said.
In another meeting to select the musicians for Dionysus, Restu said she pushed for the musicians and instruments to be Indonesian.
"Composer Midori Takada agreed after receiving the green light from Suzuki and the audition went ahead, but only by recording the musical instruments. After we selected the musicians, Midori flew in to do the recording session, which she later composed into an original arrangement," Restu said.
Another aspect of the play that is highly Indonesian is the dialogue, which uses the actors' mother tongues. Alongside Chinese and Japanese, present in the play are Indonesian languages from six different ethnic groups: Batak (North Sumatra), Rejang (Sumatra), Madura (East Java), Manado (North Sulawesi), Sundanese (West Java) and Javanese, which includes Yogyakarta, Surakarta and Banyumas dialects.
"Though I don't see any problem with it, I've always felt the Indonesian language just isn't right for [the play]. It is like an administrative language. After the actors delivered the script in the regional languages, I instantly knew it was much more impactful," Restu said.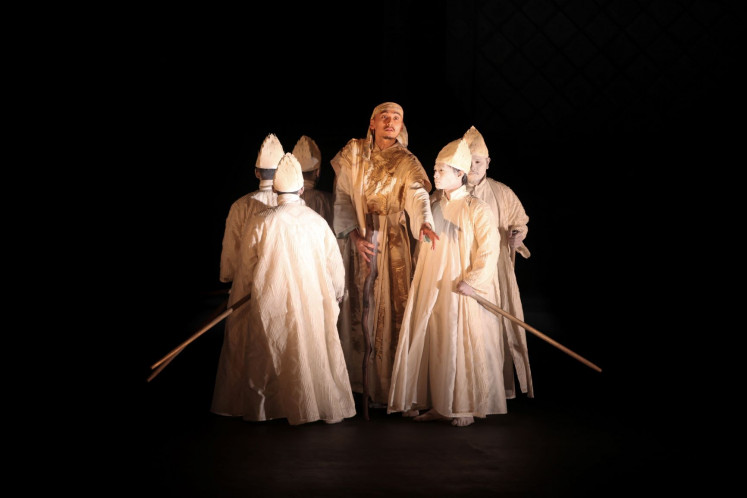 Ghostly: The priestly costumes featured in the play were designed by Auguste Soesastro using traditional Indonesian textiles (Courtesy of Purnati Indonesia 2018/Dian P. Susilaradeya)
Another touch of Indonesia comes from the costume department, which was entrusted to fashion designer Auguste Soesastro using traditional Indonesian textiles. Auguste had earlier created several designs on paper, but then was asked to attend a performance of Dionysus in Beijing to see the original costumes.
"After having a look, I was quite worried because the fabric is a top-tier kimono cloth. We have fabrics like these in Indonesia, but they're mostly antique textiles that have become almost extinct due to the low demand," Auguste said.
A total of seven costumes were eventually made – six for the role of the priests and one for the character of Cadmus.
Auguste said the instructions for the costumes were very specific, right down to the shade of white used, so as to not interfere with the lighting.
"I've worked with Japanese people before, and they are very thorough and specific about all sorts of things, whereas the situation here is more about going with the flow." (ste)