Ride-hailing company Grab rolled out a hotel-booking feature on its app on Monday. In collaboration with online reservation platforms Agoda and Booking.com, the feature enables users to compare prices before making a reservation.
Ichmeralda Alti Rachman, marketing head of food & new business of Grab Indonesia, told  that the company saw a need to give travelers the "best service", especially as the number of local and foreign tourists was growing annually and as tourism contributed significantly to Indonesia's economy.
"The 'Hotel' service gives travelers various benefits, including a loyalty program and a miles O2O [Online to Offline] platform, discounts on lounges and restaurants in several airports in Southeast Asia and exclusive airport pick-up services from Grab Indonesia and the Philippines," said Ichmeralda, adding that the hotel-booking service targeted young executives and families traveling frequently.
Read also: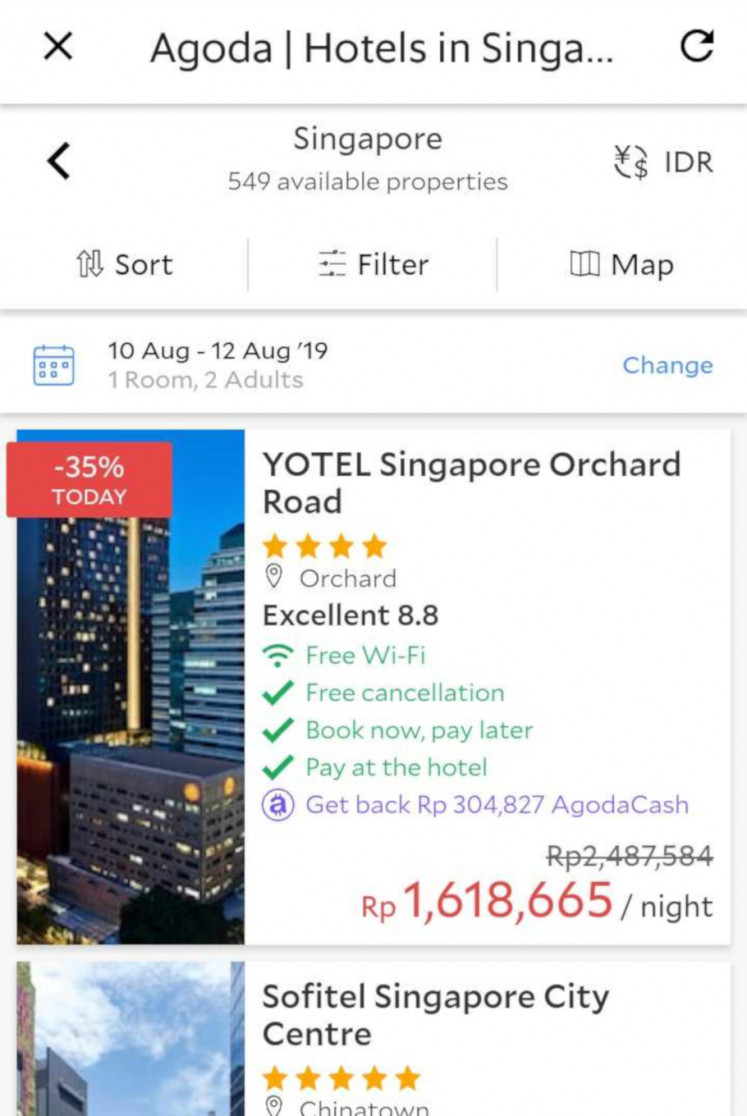 Grab's hotel-booking feature is based on search results from Agoda and Booking.com. Users can set preferences for price and currency and sort the hotels by location. (JP/Ni Nyoman Wira)
Grab gives special offers to users who make transactions through its cashless payment system or through debit and credit cards. Those who own platinum, gold and silver Grab accounts can also redeem their coupons to receive price cuts of up to S$20 (US$14.51) on hotel reservations on Agoda with a minimum purchase of S$200.
Meanwhile, Grab drivers will receive discounts of up to 9 percent for hotel bookings using Agoda.
Furthermore, points in Grab's loyalty program – GrabRewards – can be exchanged for frequent flyer miles to get rewards from airlines, such as Singapore Airlines, Garuda Indonesia, Cebu Pacific, Thai Airways and Vietnam Airlines. (wir/wng)