Java's northern coastal (Pantura) and southern coastal (Pansela) highways are major access points to all five provinces within the island and they're usually packed during the mudik (Idul Fitri exodus) season.
If you plan on taking one of these routes and are looking for an affordable yet traditional Indonesian meal, try the following dishes that you can get for only Rp 15,000 (US$1.04), according to Antara.
Sate Maranggi Haji Yetty is a popular restaurant in Purwakarta regency, West Java. Travelers coming from Jakarta should exit at the Cikopo toll gate and turn right to Purwakarta to reach the restaurant, which is located near Kuya Maranggi Waterpark, approximately 4 kilometers from the toll exit gate.
The semi-outdoor restaurant has long tables and chairs; each can accommodate 14 people. Offering sate maranggi (marinated beef skewers) as its specialty, the restaurant also provides other meat dishes, including sop kambing (mutton soup) and fried snacks.
One skewer of sate maranggi costs Rp 5,000 and is served with sliced tomatoes and bird's eye chili. These dishes are usually accompanied by rice wrapped in banana leaves.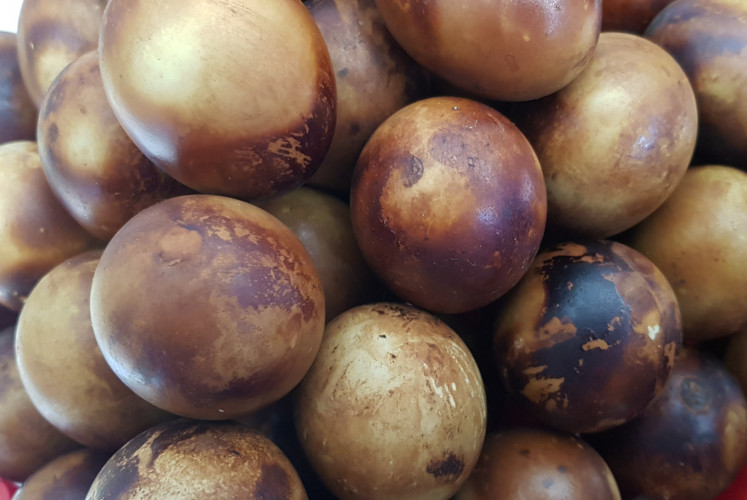 'Telur asin bakar' (grilled salted eggs) can be found in Brebes regency in Central Java. (Shutterstock/File)
Telur Asin Bakar
Drive further east to Brebes in Central Java and you will find the regency's signature food: grilled salted egg. Compared to salted eggs in general, Brebes-style grilled salted eggs usually come from ducks and have a darker shell and unique fragrance.
One grilled salted egg will cost between Rp 3,000 and Rp 4,000. A complete package with rice, vegetables on the side and warm tea is priced at Rp 12,000. This type of meal can also be commonly found at the Cipali (Cikopo-Palimanan) highway rest areas.
Read also:
Soto Kwali
If you prefer the warm, aromatic broth of soto (traditional soup), stop by Surakarta in Central Java to taste soto kwali. The traditional soup has a yellowish broth that delivers a slight sweet taste at the end. It is usually served with shredded chicken, tomatoes and bihun (rice noodles). One portion of soto kwali will cost around Rp 15,000.
Nasi Liwet
In addition to soto kwali, Surakarta also has nasi liwet (rice cooked in coconut milk) accompanied with chicken broth and spices. The dish is usually served in traditional lesehan (floor seating) style.
A full set of nasi liwet includes shredded chicken, boiled egg, crackers and sambal (chili paste) on the side. Eateries selling nasi liwet, which can start from Rp 10,000, are a common sight in the outskirts of Surakarta, especially at night.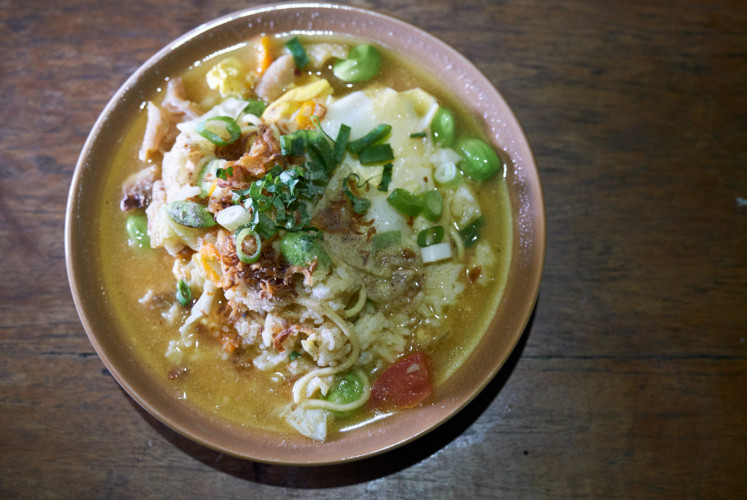 'Nasi godog' or 'nasi rebus' (boiled rice) that is usually cooked with charcoal. (Shutterstock/File)
Nasi Godog
The name nasi godog or nasi rebus (boiled rice) may sound strange, including for Indonesians who are mostly familiar with nasi goreng (fried rice). Hot water is poured onto nasi godok while it's being cooked with charcoal.
Charcoal provides slow, equal heat, giving the dish the desired effect.
The price of a single portion of nasi godok starts from Rp 12,000 and it is usually enjoyed with warm sweet tea that costs Rp 2,000. The dish can be found in Yogyakarta and the Central Java regencies of Kebumen and Cilacap. (wir/mut)