Tunisian dishes seem to be rarely explored in Jakarta. With that in mind, the Tunisian Taste event is where you can delve deeper into the country's rich traditional cuisines and products.
Currently held until June 6, it is a collaborative work between Ranch Market and Farmers Market with DoubleTree by Hilton Jakarta-Diponegoro. It is also supported by the Embassy of Tunisia and Tunisia Export CEPEX as the country's export promotion center.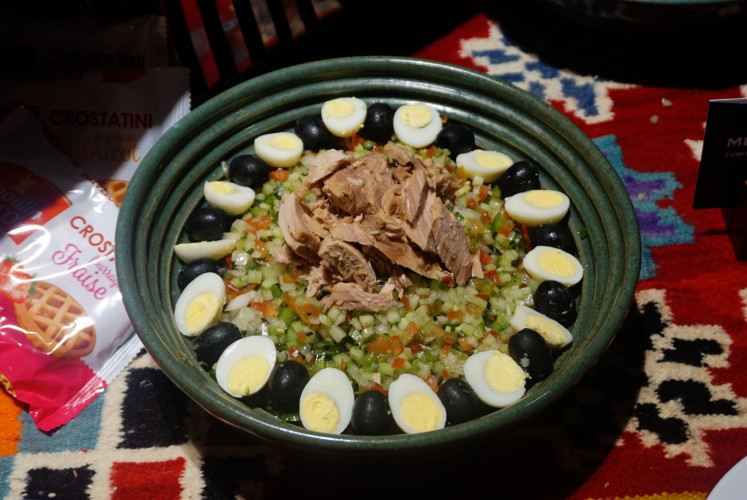 Tunisian salad. (JP/Ni Nyoman Wira)
Various programs are scheduled to be held within the event. Both Ranch Market and Farmers Market will introduce Tunisian dates for its customers. Meanwhile, Sea Grain Restaurant at DoubleTree by Hilton-Diponegoro will hold the Eight Hands Iftar Culinary Journey by presenting authentic dishes by four chefs from four countries, namely Alvaro from Spain, Zulkarnain from Indonesia, Guettat Sirine from Tunisia and Ali Qadoom from Lebanon.
Additionally, Sirine will share her experience in cooking Tunisian food in a cooking demonstration on Sunday, as well as May 11 and 12 at Ranch Market at Grand Indonesia Mall in Central Jakarta.
Sirine, who won a gold medal at the 2019 Tunisian Culinary Award, is expected to showcase various cuisines, including Tunisian grilled salad, doigt de fatma (spring rolls), beef mloukhia and grouper fish couscous.
Read also:
During the opening ceremony of Tunisian Taste in Central Jakarta on Friday, Sirine shared with the audience her favorite, must-have ingredients for her dishes.
"I like garlic, I like it so, so much, [along with] basil and olive oil," she said.
Tunisian Ambassador to Indonesia Riadh Dridi explained that olive oil, spices, eggs and vegetables are ingredients widely used in the country, while couscous is Tunisia's most popular food.
"We cook it in different forms. Some [people cook it] with chicken, lamb or fish. We also have other specialties, like harissa, which is the country's hot chili sauce," Dridi said at the same occasion.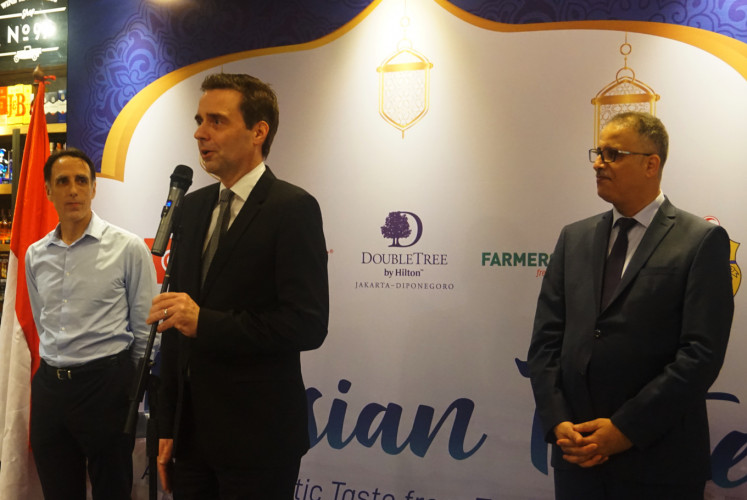 COO of PT Supra Boga Lestari Gilles Pivon (left), general manager of DoubleTree by Hilton Jakarta-Diponegoro Nils-Arne Schroeder (center) and Tunisian Ambassador to Indonesia Riadh Dridi during the opening ceremony of Tunisian Taste on Friday at Ranch Market in Grand Indonesia Mall, Central Jakarta. (JP/Ni Nyoman Wira)
He added that it was the embassy's first time organizing such an event. When he arrived in Indonesia five months ago, he was surprised to find only Tunisian dates in the markets here.
"We're trying to find other Tunisian products like olive oils, dates and tuna to show to Indonesian consumers," he said.
Karim Fitouri, founder of olive oil manufacturer Olivko, said he would love to see Indonesians consume Tunisian olive oil. He said that Olivko had won gold medals at the 2018 Los Angeles International Extra Virgin Olive Oil Competition and the 2019 London International Olive Oil Competition.
"Let's hope we can find a way to enter [the market] here," said Fitouri. "I'm sure if we [succeeded], it would be very good for Indonesians." (wng)