The use of the word "autism" has frequently been misunderstood because of the misconceptions that most people have about those with the disorder, when they witness things usually ranging from immature behavior to an inability to communicate. 
What most people don't see is the potential behind the cognitively impaired, those with the same ability to take in information as the rest of us although with longer time needed to comprehend. The way their minds work differs from most of ours and some are more perplexed than others. 
Organized by the Indonesian Autism Foundation, an art exhibition called "Warna-Warni Duniaku" (Colors of My World) features artwork created by individuals who are cognitively impaired.
Held until July 13 at Bentara Budaya Jakarta, West Jakarta, the exhibition aims to raise awareness of the disorder. 
Among the painters is 17-year-old Audrey Angesti, who struggles with low muscle tone, praxis problems, motor planning issues and limited emotional capacity. 
In an interview with The Jakarta Post on Thursday, Audrey said that her colorful painting entitled The Glow in the Dark Girls matches the exhibition's theme, while another entitled The Girls Power reflects an image from one of her favorite television shows, Asia's Next Top Model.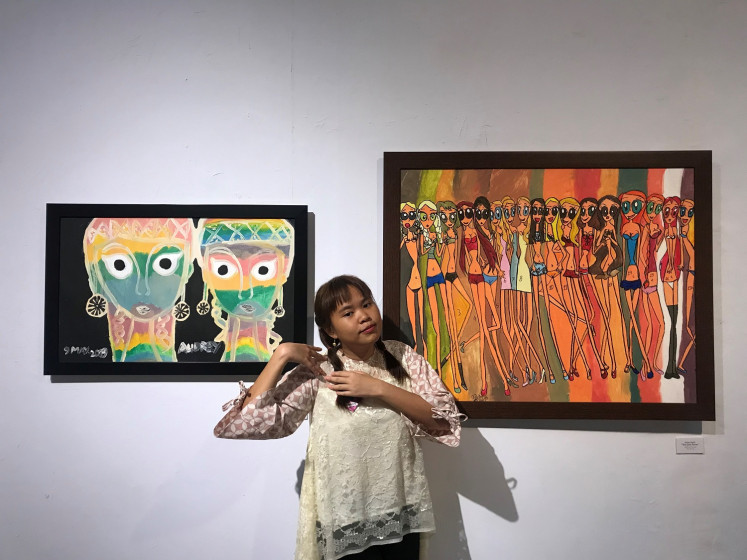 Audrey Angesti with her two paintings, 'The Glow in The Dark Girls' and 'The Girls Power' in the Colors of My World exhibition in Bentara Budaya Jakarta, West Jakarta, on July 4. (JP/Vita Bayu Putri)
Read also:
The opening ceremony on Thursday also featured the I'M STAR band, formed by 17-year-old Arianda "Arya" W. Prabowo, who sings and plays the saxophone. The band consists of four members who are cognitively impaired and among its achievements is a performance in the Presidential Palace in 2014. 
When asked why he chose to play music, Arya said, "Music is not meant to be heard. It is meant to be felt."
The founder of the Indonesian Autism Foundation, Melly Budhiman, said, "We are currently working on a project that involves the safekeeping of individuals with autism in airports and public places. This program would help the cognitively impaired when faced with difficult challenges that may occur in public, such as anxiety attacks or emotional outbursts."
She encourages people to learn about autism and understand that people with this disorder have a different way of thinking. 
"There's a lot of misunderstanding about the cognitively impaired. Kids are being bullied or being looked down upon, when in reality they're just people," she added. (vit/wng)