There is something different about this year's annual international contemporary art festival ARTJOG.
The COVID-19 pandemic shows no sign of slowing down, and it definitely affects this year's ARTJOG.
No crowds of people or long queues of visitors were seen in the exhibition area at Yogyakarta's Jogja National Museum (JNM) in late August, because the festival organizing committee had organized previews only for a few selected people.
Visitors, all of them in masks, were seen keeping their distance from one another as they queued for registration at the ticket counter.
The registration staff member at the counter also took their temperature using a thermo gun pointed at their foreheads. She also asked them to wash their hands using hand sanitizer she had prepared before allowing them to enter the exhibition venue.
"We have to implement strict protocol to help stop the spread of the coronavirus during the exhibition," ARTJOG's director and founder Heri Pemad said prior to the preview session last week.
In previous years, previews usually already involved numerous invitees. People as well already crowded the area because the previews took place just hours before the official opening ceremonies of the whole festival.
With only a maximum of 100 visitors a day, this year's previews took a whole week. The visitors were also divided into two shifts, each for two hours of visit only. The first shift was from 10 a.m. to noon. The second was from 3 p.m. to 5 p.m.
"For us, this also functions as a simulation before we open it to the public," Pemad said, adding that an evaluation would be made after the simulation to decide on the best measures to comply with COVID-19 health protocol while at the same time offering visitors a comfortable experience.
This year's event, dubbed ARTJOG: Resilience, was officially opened – online – on Aug. 8 and runs until Oct. 10, and the offline previews were scheduled only from Aug. 22 to 29.
ARTJOG: Resilience is a special edition of the annual event that was previously scheduled to take place from July 23 to Aug. 2020 but was later postponed to 2021 because of the pandemic.
"This is an ARTJOG emergency response," said Pemad, adding that the management had decided to hold ARTJOG: Resilience only in June, thus leaving just some two months to prepare.
The theme of the original event, dubbed ARTJOG MMXX Art in Common: Time to Wonder, according to Pemad, would actually have been quite fitting in the current situation. Yet, as it would have involved many people while creating crowds is not allowed, a special edition was prepared instead.
This year's event can also be enjoyed online through the website artjog.co.id, thanks to the pandemic. As such, filmmakers and videographers were involved in exploring the exhibition and the artworks displayed so as to offer the public a different way of enjoying an art event online.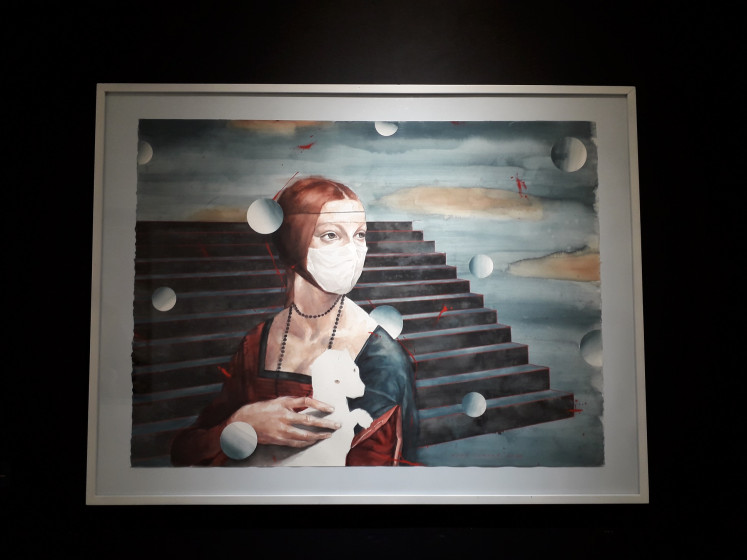 Agus Suwage's 'Droplet series – After Da Vinci' (JP/Sri Wahyuni)
However, the organizer also wanted the event to not only take place virtually.
"A virtual visit is just not satisfying. It's like watching an animation," Pemad said, emphasizing the reason for the organizer to allow physical visits.
ARTJOG: Resilience, according to Pemad, is a direct statement toward the current global crisis. It is presented as the spirit to keep going and testing the annual event's endurance as a festival and at the same time representing the resilience and creativity of Indonesian artist.
A total of 78 artists participate in the event, presenting some 140 artworks, most of which are two-dimensional. Among them are noted artists Nasirun, Heri Dono, Ivan Sagita, Agus Suwage, Lucia Hartini, Putu Sutawijaya, Djoko Pekik, Rudi Mantovani, Entang Wiharso, Nyoman Nuarta, Eddy Susanto and Jumaldi Alfi.
"Two-dimensional artworks are dominating, especially because of the limited time we had to prepare the event," ARTJOG's co-curator Bambang "Toko" Witjaksono said, adding that it was also for the same reason that this year's event involved mostly local artists.
He said in general the curatorial aspect in ARTJOG: Resilience aimed primarily to present the event as an activity that showed the artists' endurance, toughness and response as a shared spirit to continue working amid the pandemic.
This brought in some consequences, such as limiting participation to artists who were easy to reach, selecting no theme to enable old works to be presented, minimizing installation, mechanical and interactive artworks, and limiting the sizes of artworks.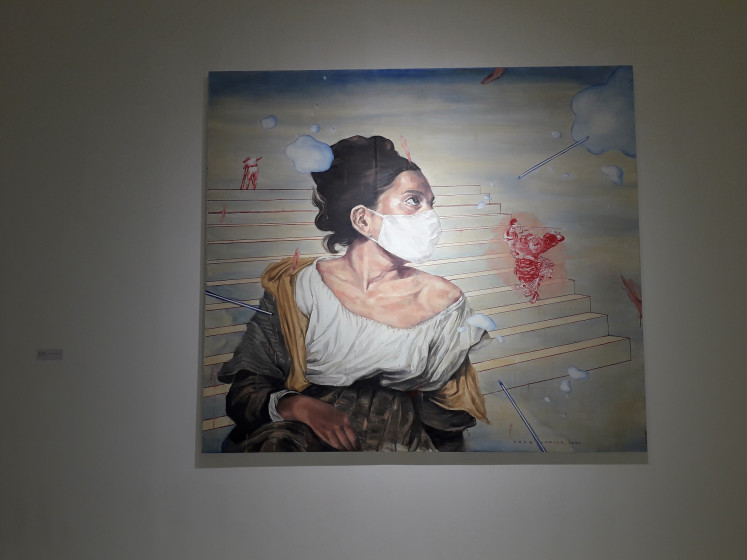 Agus Suwage's 'Droplet series – Tolak Bala – After DeLacroix' (JP/Sri Wahyuni)
Old artworks were welcome more as a form of positive response from the artists toward the event, which was held at a time of pandemic that brought almost everything to a standstill.
Exhibited artworks that were newly created for ARTJOG include Agus Suwage's Droplet series – Tolak Bala – After DeLacroix (2020, oil on canvas, 200X225 cm) and Droplet series – After Da Vinci, Djoko Pekik's Gelombang Masker (2020, oil on canvas, 150X250 cm), and Sunaryo's When the Dancers Stay at Home (acrylic and charcoal on canvas, gold leaf, 160X200 cm).
"Many artists said they had more time during the pandemic, so that they could be more focused in working," he said, explaining why some artists had managed to create artworks for ARTJOG despite the limited time they had to prepare.
Some programs, most of which are considered to have the potential of drawing crowds, are omitted from this year's event. Others have been redesigned to be held online. These include several education programs, such as Curator's Talk, Meet the Artists and webinars on art management.
"This is mostly to accommodate participants from outside the city and even abroad who cannot come to the venue because of the pandemic," ARTJOG's program manager Gading Paksi said.
Some online programs, according to Gading, were also designed by maintaining the connection between the artists and the public. He was referring to Murakabi Movement's Puisi Hening Cipta Ritual (Murakabi Movement's Creative Ritual of Silent Poetry), which presents noted poet Joko Pinurbo and author-cum-theatre director Gunawan Maryanto, involving some 50 participants joining the program online from their respective places.
"The participants will be required to set up an altar in their respective places to build an intimate connection with the artists," Gading said.
The public opening of ARTJOG: Resilience took place back on Sept. 7, and the visiting sessions fall into three two-hour shifts starting at 10 a.m., 12:30 p.m. and 3 p.m. respectively. A maximum of 50 persons will be allowed in for each shift. The entrance tickets are also sold online.
Nadia, an ARJOG regular of Yogyakarta, agreed with the restrictions, saying that, with only a few visitors in the exhibition venue, she could enjoy all the displayed works more comfortably, without frequently being disturbed by the presence of other visitors.
"And above all, this is for the best of all, considering the COVID-19 pandemic," said Nadia, who had come to the venue with her two grown-up daughters.
Your premium period will expire in 0 day(s)
close x
Subscribe to get unlimited access
Get 50% off now